Here at the NESIT Makerspace (290 Pratt St. in Meriden, CT) there's a variety of manufacturing hardware from 3D printers to metal milling machines to soldering stations. It compliments the public computer workstations running OS-X, Windows, and Linux and learning center and gets the rubber to the proverbial road.
For the commercial tools (saws, sanders, metalworking, etc) we'll be showing them here but not going over their actual use. To use those tools you absolutely need to get someone who knows how to use them.
The NESIT wood shop has a wide variety of tools to tackle just about any woodworking project you throw at it.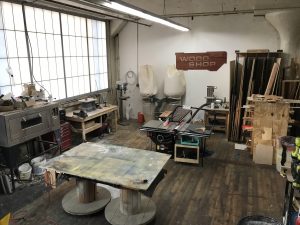 The NESIT metal shop has just about everything you could need to make your metal project, from welders, grinders, saws, gritblasting, drilling, milling, forging, and more!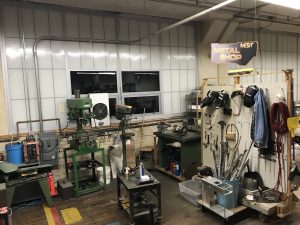 NESIT Electronics Area
NESIT has a large electronics area stocked with the equipment and supplies to tackle almost any electronics project you have.We have several Weller soldering stations equipped with light and fume extraction, as well as other equipment such as a desoldering station, precise multi-meters, bench top power supplies and more. in addition to this, there is also a stock of publicly available components, wire, and heat shrink tubing available for your project.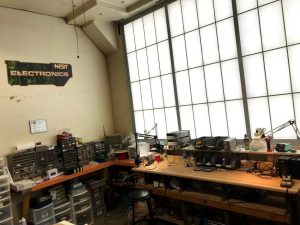 3D Printing at NESIT
NESIT has a small fleet of 6 3D printers and a stock of publicly avalable filament. Public computers are loaded with the popular CAD and CAM softwares such as Fusion360, SolidWorks, and Scetch Up.
Our Printers include the following: Deltamaker, Ender 3, FabTotum, AIO Zeus, Makerbot Replicator 2, and a Prusa i3 MK3S
Laser Cutting and Engraving at NESIT
NESIT's Lasers are the most popular machines by far, its rare to see them idle. One is a 45 watt Epilog Mini Helix with a 12″x24″ working area, and the other is a 60 watt Epilog Legend 36 EXT with a 36″x24″ working area.
They can cut and engrave almost any material you can think of, from wood to acrylic to paper. They even have rotary attachments allowing anyone to make their own custom glassware and water bottles.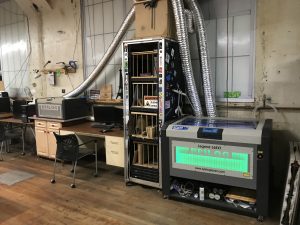 CNC Routing and Milling at NESIT
NESIT has several CNC routers and milling machines, and has plans on getting more. The machines we have are extremely versatile, and extremely accurate.  We have the ability to cut and engrave materials as soft as styrofoam and as hard as steel.
Nesit's Printing Machines
NESIT now has the capability to pad print and silk screen. Silk screening is mostly used for fabric, and at NESIT, we regularly hold T-Shirt nights where members can design and print their own shirts.
Pad printing is a less common method of printing where a rubber pad is used to pick up a graphic and stamp it on anything from fabric, to pens, to golf balls. Its a great machine for making promotional items
Nesit Learning Center
The NESIT classroom is an air conditioned room inside the makerspace where we hold classes and events. The room has whiteboards on two walls, a projector, surround sound, and can seat over 12 people very comfortably. Its a great place to hold classes, or just hang out.